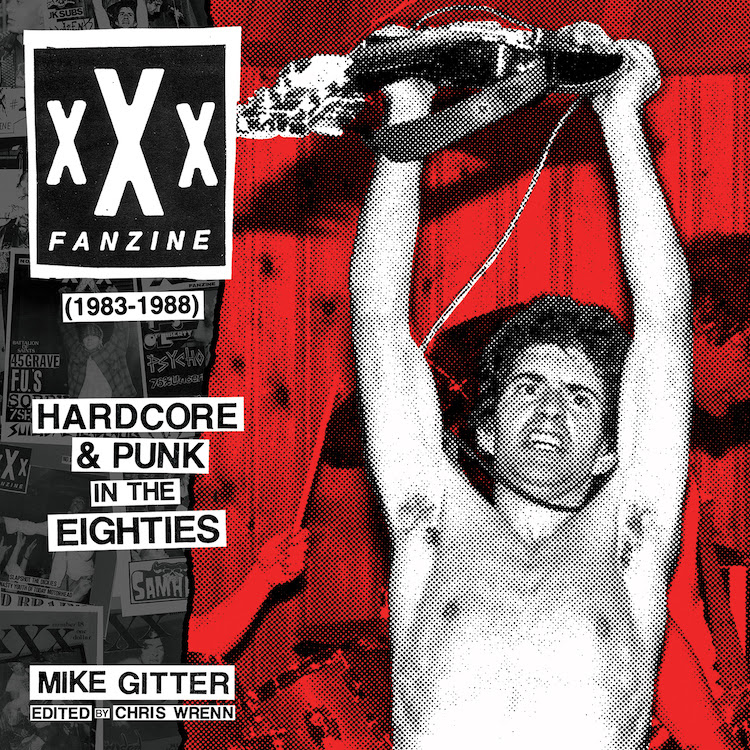 xXx FANZINE 1983-88: HARDCORE & PUNK IN THE EIGHTIESIS AVAILABLE FOR PRE-ORDER

ANTHOLOGY OUT THIS NOVEMBER 
The long awaited, 288-page 11″ x 11″ book,
xXx Fanzine 1983-88: Hardcore & Punk In The Eighties,
is available for pre-order
here
.
The book is a nearly four-years-in-the-making project between Bridge Nine owner, Chris Wrenn, and Mike Gitter, who self-published xXx as a teenager during hardcore's rise to prominence in the 1980s. xXx chronicled that musical and cultural explosion in the underground, the shockwaves of which are still being felt today. It's a musical and cultural revolution seen through Gitter's words and the pages of one of Boston's most beloved DIY zines.
Spanning an era that encompasses the generation-galvanizing likes of Minor Threat and SS Decontrol all the way to the Cro-Mags and Fugazi (with pit stops along the way for the Punk-Metal crossover, Youth Crew, Washington D.C.'s Revolution Summer and the No-Wave explosion of Swans and Sonic Youth – amongst others), xXx Fanzine 1983-88 is a portrait of music in motion – told through reprinted fanzine pages, hundreds of largely unseen photographs and over 100 then-and-now interviews from key movers including Ian MacKaye, Keith Morris and Milo Aukerman.
In addition to the book itself, the pre-order also includes a 64-page, limited accompanying book that reprints all three issues of Gitter's pre-xXx zine, Suburban Mucus, as well as a clutch of photos and flyers from the golden era of hardcore in Boston that couldn't fit into the book itself.
Add to that two eye-popping posters and a limited vinyl pressing of a 19-song compilation, Still Having Their Say, that accompanies xXx Fanzine 1983-88… and this pre-order is as packed with plenty of extras that celebrate xXx's past, present and future!
ICYMI:
Decibel premiered the Nomads covers here.
No Echo debuted the Strife cover here.
xXx Fanzine/Still Having Their Say Compilation Track Listing:
1. Strife — Who Are You? (Void)
2. Done Dying — Blending In (Government Issue)
3. letlive — Fix Me (Black Flag)
4. Trial — Money (Embrace)
5. H2O — Safe (Dag Nasty)
6. Nomads — How, When, Where/The Eliminator (Crucifix/Agnostic Front)
7. Walter Schriefels — Society Sucker (Agnostic Front)
8. Tombs — Kiss of Steel (Samhain)
9. Voivod — Man In The Trees Live w/ Danny Kubinski (Die Kreuzen)
10. AEGES — Hungry Child (Corrosion of Conformity)
11. Last Light — A Wish To Dream (Uniform Choice)
12. Jesse Leach — Salad Days (Minor Threat)
13. Fuck You Pay Me — Religious Wars (Subhumans)
14. Shai Hulud— Raw Power (Raw Power)
15. True Rivals — Coolidge (Descendents)
16. Fu Manchu— When The Shit Hits The Fan (Circle Jerks)
17. Gallows— The Possibility of Life's Destruction (Discharge)
18. American Nightmare —It's The Limit (Cro-Mags)
19. Riverboat Gamblers —Dicks Hate The Police (Dicks)
NOTE TO MEDIA:
Author Mike Gitter is available for phone + email interviews.
Email us to request a digital copy of the book or the compilation for review.